MOW Scheduler Tutorials :: Managing Volunteer Driver Info
Volunteer Driver Info Overview
Some MOW organizations need to keep up-to-date driver's license and vehicle insurance information on file for volunteers (or staff) who drive routes. We've developed a set of tools to make this easier. The relevant features include:
Volunteer Driver Info Summary - list the status of license/insurance info for your volunteers and find the ones that need to be updated.
New status info on Contact profiles -- for volunteers (or staff or volunteer applicants) who have any license/insurance information on file, the "drivers info" section of the contact profile now includes a status icon and the date of the last update request sent and last update submission (if any).
Update Request emails -- send an email to a specific volunteer, or a list of volunteers, that includes a secure link to an update form that allows them to review and update their own license and insurance information.
Volunteer Driver Info Summary
This is a new menu item under the main Contacts menu. The Summary shows the license and insurance status for active volunteers. It can be filtered by driver info status (for example: view only volunteers whose info is either expired or is expiring soon), by Job Group association, or by tags.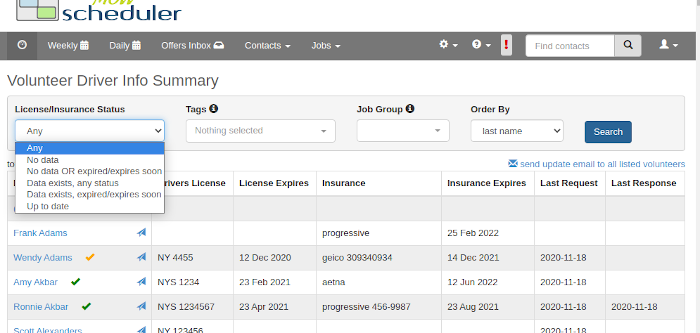 In this screenshot you see 2 volunteers w/ up-to-date info (green checkmarks) and one whose info is expiring soon (orange check). Note the "send" icons next to each volunteer's name, you can use this to send an update request by email to a specific volunteer. Or, you can use the "send to all" link in the upper right to send an update request to all the volunteers listed. Details about how the update requests work is in the Update Request Emails section below.
Hints:
You might want to filter the volunteers using the "No data OR expired/expires soon" filter before using the "send to all" feature.
If only a portion of your volunteers drive routes, you could assign them all a "Driver" tag and use that to filter the Driver Info list.
Contact Profile and Contact Editor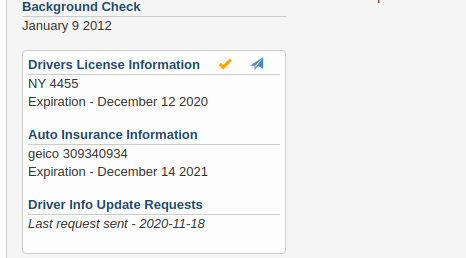 The Driver Info section of a volunteer (or staff or volunteer applicant) Contact Profile is shown only if the volunteer has license or insurance info, or has been previously sent a Driver Info update request. This section now includes a status icon which tells at a glance whether the info is up to date -- green check if both license and insurance expiration date are at least a month away, orange check if one of them expires soon, or red warning icon if one or both is expired or missing. The blue "send request" icon allows you to send or resend the update request to the volunteer if needed.
Also shown is the date of the last update request email sent (if any) and the date of the last update request response by the volunteer (if any). In the example shown, the volunteer's info expires soon and they were sent an update request email, but the volunteer did not yet submit an update.
In the case that no Driver Info (or previous update request) is on file for this Contact, the Driver Info is not shown on the profile. However, in this case the request update "send" icon is available in the Driver's Data section of the contact edit form, and once a request is submitted or license/insurance data entered, the Driver Info section will appear on the Contact Profile.
Changes to a contact's license or insurance information are recorded in the History tab.
Update Request Emails
When you send an Update Request to a volunteer, they receive an email that says:

From: MOW Scheduler
Subject: Driver Info Update Request

Hello [Volunteer Name]

Volunteers who drive for Meals on Wheels of Nashville are required to have up-to-date
driver's license and insurance information on file in the MOW Scheduler volunteer database.

Please click the link below to review and update the info in your MOW Scheduler profile.

Review/update your license and insurance information

The last "Review/update" line is link with a unique secure url that opens a form, pre-filled with the contact's current license and insurance info. It asks them to review, update and submit. When they submit the update, their profile is automatically updated, along with the "last response" timestamp.
The request email has the same layout, logo, and From address as the shift reminder notifications your volunteers routinely receive from MOW Scheduler. So although we're asking for some personal information, they should be comfortable that it's coming from a legitimate source. The link in the email can be used more than once (in case for example, they need to track down their insurance policy info and come back later), but it expires after 30 days.
The review/update form contains, in addition to the license and insurance info, the volunteer's current phone number and address info from their contact profile. They can also update this info if it's out of date.