MOW Scheduler Tutorials :: Understanding One Time Events
Introduction
One time Events allow you to have jobs that happen only once or not on a routine schedule.
Some example uses for events:
Fundraisers
Training Sessions
Outreach Programs
Help for administrative tasks
Features and Functions
Events have the following details:
Name
Date
Description
Public Flag - Events marked public will be displayed on the public help wanted page.
Mileage & Hours - Track volunteer miles and time credits for your volunteers. Credits are awarded when event is closed.
Workers Assigned/Required - as with regular job shifts, if the number of workers assigned for an event in the future is less than the Required number, the event is displayed with a pink background.
Upcoming and past events are listed and maintained from the One-Time Events page under the Jobs menu.
Click for annotated screenshots of the Events list and Event detail pages.
Events appear on:
Details:
Volunteers can sign themselves up from the public Help Wanted Page and be approved automatically on a per contact basis (similar to sign up for routine jobs.)
The system automatically tracks volunteer hour and mile credits for event participation. Credits are awarded when the event is closed out.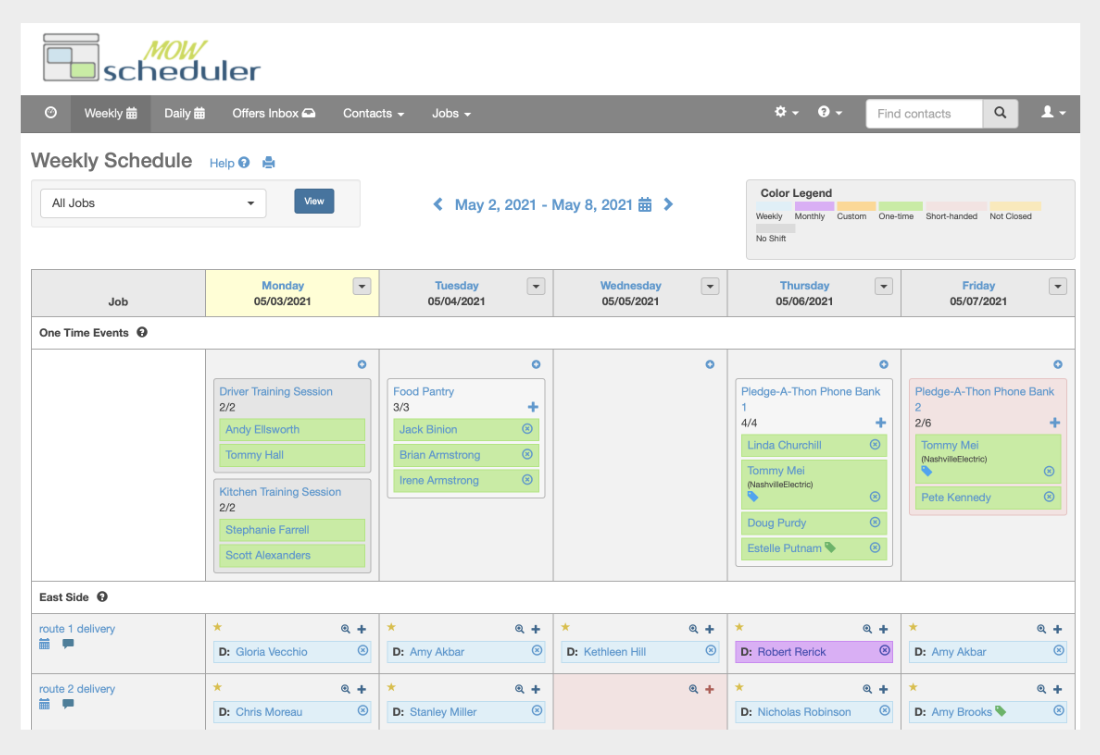 The one-time events are shown on the Weekly (and Daily) schedules in the special "One Time Events" job group, which may be included or excluded from the schedule view via the Job Groups filters on searches and in your My Account profile. This special Job Group only includes a single row, which may contain multiple events scheduled for the same day. More...