MOW Scheduler Tutorials :: Job and Shift Attachments
Overview
You can use the Job and Shift Attachment features to add text notes or file attachments (image, PDF, etc.) to Jobs or Shifts (i.e. specific job on a specific date). You can control who can see the attachments, with access levels for staff only, all public users, all vounteer portal users, and volunteers assigned to a shift. More info on attachment access levels here.
Example: Attaching a Route Map to a Job
We don't provide any route mapping features in the MOW Scheduler system. However, if you make your own route maps, you can "attach" them as PDF or image files to the routes so that your volunteers can see them to add a map to a route as a "Job Attachment":
go to the Job Detail page (click job name on the Daily or Weekly schedule)
find the Notes tab at the bottom and click the Add Note button add a subject and short description, and upload the map file
choose "All Volunteer Portal Users" access level (see below)
now the volunteers can see the map attachment several different places:
on the Help Wanted page in the "shift details" popup (the ! icon in an open pink slot) -- but ONLY if they're signed into the volunteer portal. Public Help Wanted page users will only see a notice that more info will be available after they sign up for a shift
on the shift details/cancel page that's linked from the volunteer's confirmation and shift reminder emails
on the My Assignments page in the Volunteer Portal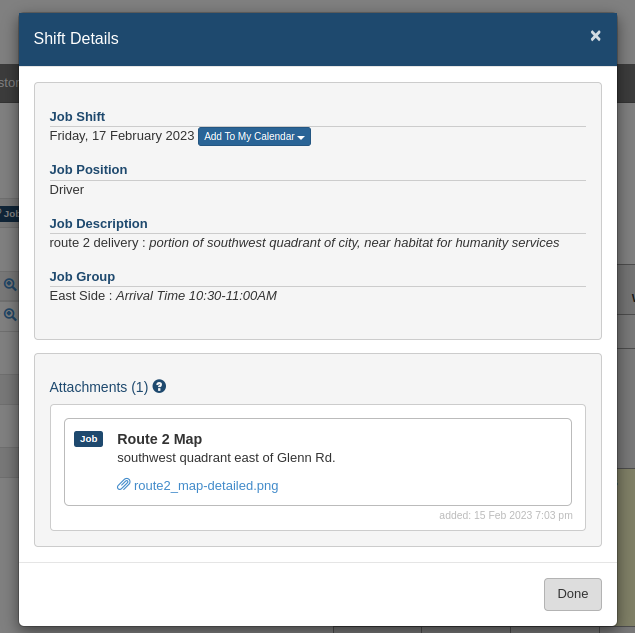 Alternative: Public access
If you choose the "Public" access level for your attachment, and it will also be available to Help Wanted page users before they sign up for the shift, even if they're not logged into the Volunteer Portal. But be careful not to expose anything too specific here (such as route stop addresses), since it will be visible to the entire Internet! Some of our customers use a high-level Public map with a shaded area that gives a general idea of what neighboorhood(s) are covered without giving away too much. You could do both: a generic map with Public access, and a more detailed one with Volunteer Portal access level that volunteers can see from the Portal or after signing up for the shift.